Be yourself. We have all heard the saying countless times, but for Remi Ashten Cruz, it's more than a saying; it's her full-time job.
MissRemiAshten
Subscribers: 2,534,087
Uploads: 311
Video Views: 199,548,544
Channel Type: Entertainment
User Created: Apr 1st, 2012
Over the course of 6 years, Remi has taken her hobby of making YouTube videos about her life experience and interests and transformed it a full-fledged career.
She has worked with impressive brands including SoulCycle, Tarte Cosmetics, HP and M&Ms Chocolate and has been featured in publications such as Refinery29, AdWeek and Paper Magazine to name a few.
We had the pleasure of chatting with Remi Ashten Cruz about how she got into YouTube, what it takes to run her media empire and how to be anything but basic on YouTube.
The early days
Remi Ashten didn't always see herself as a YouTube sensation. She started out as a middle schooler who was in love with other creators on the platform. She recalls, "I became obsessed with [YouTube], and [I would] make so many videos a night in my room and on my computer, but I would never actually post them."
Inspired by other beauty gurus on YouTube, Remi decided her senior year of high school was the time for her to launch her own YouTube channel —
MissRemiAshten .

Much of Remi's video production and editing experience was self-taught. In the early days of her channel, Remi would record her videos in Photobooth and edit everything in iMovie. "I was kind of a full one-woman show." Remi states.
She goes on to explain, " I did a lot of DIYs at one point, so really, it was just myself and a tripod. [I would] just craft for hours and hours and hours. And then I would edit it for hours after that."

Her passion for YouTube would carry on into her freshman year of college. During that time, she made DIY videos from the view of a college student. She also broke into the personal vlogging world.
"I remember, I made my first vlog ever, and it was me shopping for my college dorm room. In the vlog, I asked people, 'oh, would you guys want like, more of this?' And the response, just like…insane, and people wanted a whole new channel and everything."
With such strong feedback, Remi created her second vlogging channel "RemLife". On that channel, she chronicles more of her life in a vlogging format. Today the channel has over 1 million subscribers: "I had no idea it would become what it is today, for sure."
In addition to a college workload, Remi had a lot on her plate. She was making DIY videos on her main channel, MissRemiAshten, and sharing her life on her second channel. But her hard work was garnering a lot of attention. Remi started to notice her channel growing to the hundreds of thousands.
It was at this point where she decided it was time to see just how far she could take her channel if she invested in it full time. "…after my first year of college is when I convinced my parents to let me take a year off of school. To kind of just see what could happen." Noticing the rise in DIY videos at the time, Remi really saw the potential to make her YouTube hobby into a full-time career.

With her parent's blessing and a year off from college, Remi got to work. "Every day I was pumping new content. It was just myself, my camera, and my Ikea table, making DIYs 24/7." Remi Ashten grew her channel from 200,000 subscribers to over 700,000 subscribers that year. That growth showed her that she was able to turn her passion into a career. Not to mention, "…at that point I was able to fully support myself financially. So then I was able to move out to LA after that."

Fast-forward to now
Since going full time on YouTube, Remi has amassed a tremendous following.

Between her main channel and her vlogging channel, she has over 3 million subscribers. Outside of YouTube, she has 5 million followers across all of her social channels. All of this has honestly come as a surprise to Remi. "I have always wanted it, but I also never fully believed that it could even happen for me." Over the years she has grown her team from a one-woman show to a business with two full-time employees; her videographer/editor and a personal assistant.

When asked about when she thought it was time to grow her team, Remi reflected back to when she first hired her videographer, Eli. "I hired him on to help me for the first time because I just needed someone to help for a branded video [for Google]. I was like, so excited, and then I realized, like, "oh shoot, I needed to take this video to the next level."
Because of that deal, she reached out to her high school friend who she knew made videos for fun. "He was super stoked about it.", Remi shares. She continues, "…it was the best decision I ever made because I fully trust him. And I think that my content has gotten so much better, too, because I am so comfortable with him. And just putting two brains together obviously is so much better than just one."

Remi Ashten's production process
Creating consistent content takes a consistent process. Typically, Remi draws inspiration from her life to decide what to make a video about. For instance, in Remi's personal life currently involves, "…doing a lot of health and wellness stuff … and fitness. That has become a really big part of my life, so that is definitely what a lot of my content has become lately."

Once the focus of her video is decided, she brings in her videographer and editor Eli into the process to figure out the vision for the video: "We always just come together, and [I tell him], 'I want to do this video.' And he, like, brainstorms with me. Okay like, 'we can take it to the next level by doing this.' Or, 'this is similar to what you already did. Let us twist it, and make it different in this way.'"

"I mostly come up with all the ideas of what exactly I want to do. And he is just so go-with-the-flow. I just tell him exactly what angles, and kind of like, I basically just lay out the whole idea behind it."

On average, from concept to creation, it takes Remi Ashten and her team a week to publish a new video.
"Sometimes we film for the full week. Sometimes it is just a one or two day shoot. Then, after that, it is figuring out the thumbnail, getting all that squared away. Editing takes a few days." The video is usually ready to go out the following week.

Producing the videos is always fun, Remi says, but her favorite part of the process is editing the vlog videos. "I genuinely enjoy editing vlogs, I feel like it is so much fun." She adds, "The main channel videos are kind of like a present, with a box and a bow and everything. It is all wrapped up nicely. And then the vlogs, for me, are just all the behind the scenes videos to see what actually went into all of that."

Keeping content fresh
It can be a challenge to maintain an audience over the course of 6 years, especially with YouTube and social media platforms changing without notice. However, Remi has found that continual reinvention is the key to keeping her channel fresh and never stale.

This hasn't always been the case though, as Remi admits that she, "…used to feel a lot of pressure to do certain things, or try to be trendy and things." But since embracing her many interests and creating content she wants to see, she has seen her audience embrace her ever-changing channel.
"Recently I have just started making content that I really just want to watch and I really want to make."
She has found that her audience enjoys keeping up with her life and what she's doing.

"And honestly, I think even by doing that … My actual views have grown immensely by doing that. And also, just my pure happiness with my content and my life — since YouTube is actually my life — has grown so much, too."

Branching out beyond YouTube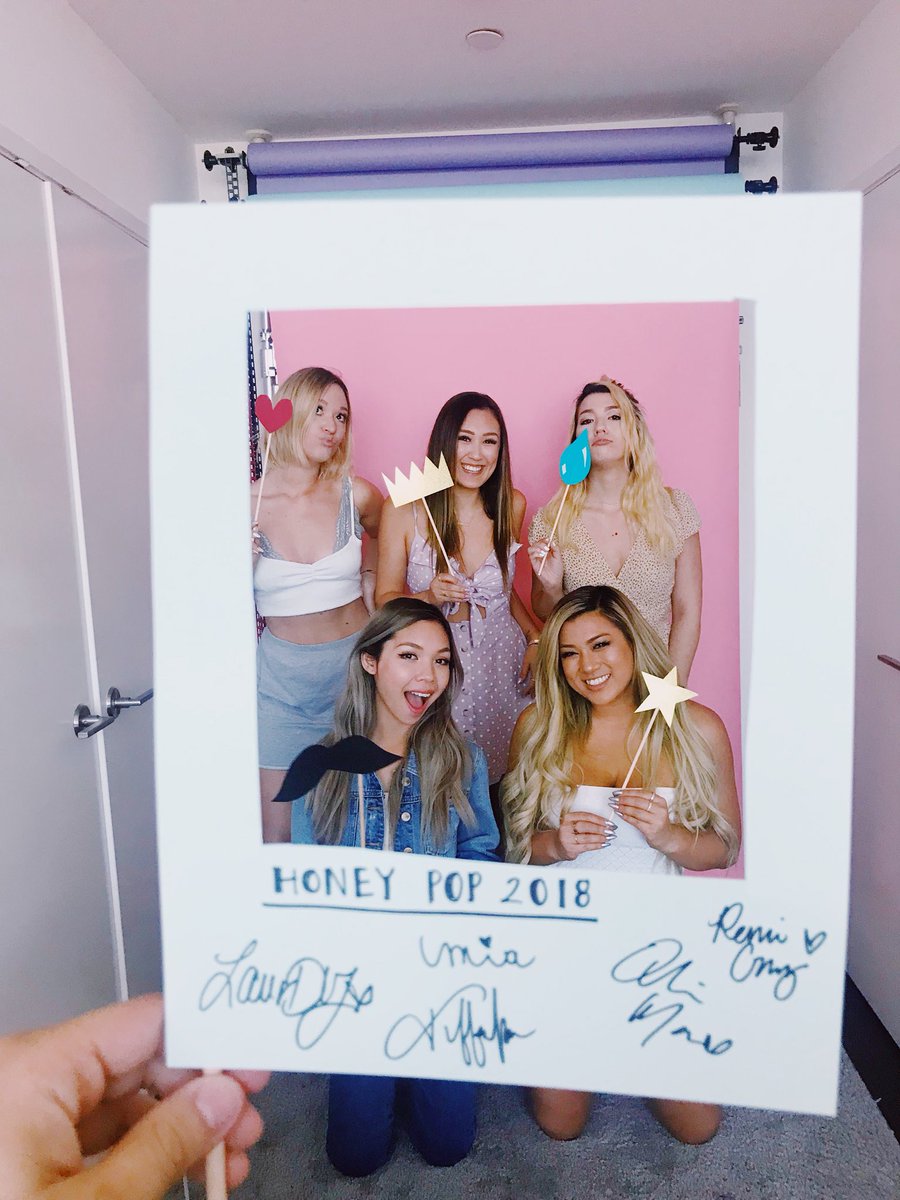 Honey Pop
In addition to her successful YouTube Channel, in 2018, Remi Ashten released her first product line, a DIY facial mask and called Honey Pop. Much like her YouTube Channel, this product was born from drawing inspiration from Remi's everyday life.
Remi reflects, "I am just very into face masks themselves. So when I first was approached with the opportunity I was like, 'I want to do something cool and awesome. But I also want it to be something different that I had not seen before.'
Acknowledging that, everybody has different types of skin, Remi thought "…adding the DIY aspect to it made it so that like if you have drier skin, you could add in more of the jelly. Or if you have more acne, you could put more of the [acne cream] in." Making every mask customizable makes sense with the brand Remi has built for her channel.

Pretty Basic
The latest addition to the Remi Ashten media empire is a podcast she started with her best friend Alisha Marie. Much like her second vlogging channel, the Pretty Basic podcast centers around the ongoings of Remi and Alisha's daily lives. They open up about relationships, life behind the scenes for full-time YouTubers, and personal stories not found anywhere else.

The podcast was born out of the natural chemistry Alisha and Remi have when sharing stories with others.
Recalling a time when Alisha and Remi were sharing a story with their agent, "…I was telling him this story of what happened with this guy that I was kind of dating. It was just a very dramatic story. And [Alisha] was there, kind of backing me up, and would like, chime in when I would forget details and things like that."
The next morning their agent recommended started a podcast. Remi recalls him stating, "…sitting on the other side of the table and just seeing your dynamic overall. Like, people need to hear this."
Upon release, the podcast went straight to number one on Apple Podcasts — which is no surprise with their combined social media following adding up to over 28 million.

Remi Ashten describes her podcasting experience as being, "So new, and it is something that we are really getting used to. It is a whole other world than YouTube itself. So every day we are learning more things about, just a whole other platform."
The podcast has opened up Remi to new opportunities and experiences, including going on a four-city LIVE podcast mini-tour. "I have never done anything like that before in my life. So that was a really full experience, to shoot four different stops. And do the podcasts live, do like meet-and-greets. I have done meet-and-greets before, but never have done anything like that."

How much is OVERsharing?

Having a successful YouTube channel based around your life comes with challenges as well. One of the biggest challenges is deciding what to share with your viewers and what to keep private.
Admittingly, Remi has learned the lesson of oversharing the hard way. She shares, "Sometimes, I cross the line by talking about things too much. Like, even something as small as my dating life, I would talk about a lot. And then it was more of like a, 'oh wait. This is too much to share', so I am going to dial it back."
Through her experiences, she has been able to find the right balance of sharing personal stories without giving out too much personal information. Ultimately, it comes down to lessons learned from her life.
If someone can learn from it, then that is great, and then I should be sharing it.

The Pretty Basic podcast has actually served as a vehicle for Remi to refine how much to share:
"But actually through the podcast, I have learned kind of the right way to do it. If someone else can learn from it, then that is great, and then I should be sharing it. And sharing what I have learned. But if not, then it … There are things I should definitely keep to myself."

A big draw of Remi's content is her personability. So much so that sometimes her audience feels they are owed specific details about events or people. Still, she never shares more than she is comfortable with.
"Rather than to fill any sort of gossip, or like, share too much about someone; I never want to do that. When they ask for something, I just straight up say, 'you know, I am not comfortable with sharing this. Or I just do not want to.' Then they always just back off, which is really nice."

Remi Ashton's advice for aspiring YouTubers

For those looking to build an online presence like Remi, it's going to take more than personality. It's also going to take persistence.

Remi attributes much of her success on YouTube not only to her personality but also to her consistency and creativity. She advises, "Do not take too long of breaks, and just keep putting out content and content. But also, make the content you actually want to watch."
YouTube is not the only video platform game in town anymore. Because of that, choosing the right platform that best fits your content is also vital. "Figure out what kind of content you want to make. If you are more into photography, then definitely use Instagram as your avenue. Or, if you are more into comedy and short-form videos and things, then maybe Twitter is the place for you."
But for Remi, YouTube is the best platform for her longer form, community-building content. She believes, "YouTube is the best for that because you have the most options of like, actually interacting with people."
A career on YouTube is still a career
The glamorous life of a Full-Time YouTuber is just that, a full-time job. For Remi Ashten, it involves having the right team around to support you and knowing yourself and your audience. It also takes some trial and error in deciding what to share and what not to. Not only that, it takes consistency and a personality that people want to follow.

"I feel like I would be a completely different person, had I not been on YouTube. I think YouTube also helped me really to become a more confident person, and just who I am today. That has definitely made me just a different person overall."

Like Remi Ashten, aspiring YouTubers can draw inspiration from who they admire online and then create something completely original and unique to them. In return, you may not have millions of subscribers like Remi, but instead, you may find yourself transformed into a more open and confident person.